I am so honored to see my article published in the amazing Elephant Journal. I've been following them for years so to be writing for them is a real compliment to my work.
---
My daughter, Ever Love, and I (who both eat a plant-based diet) recently went to a non-vegan children's party.
What does a plant-based mama (with healthy children, who she wants to keep healthy) do on these occasions? How do we get through a situation like this?
If I were to show you videos and pictures from the day, you would see Ever at the kids' table during cake time, enjoying eating with the others.
That day, I had forgotten we were supposed to be attending this party—completely forgotten—until we were in the car on our way somewhere else and I looked at my calendar..Eek! So we arrived a fashionable one hour late.
I always have some food on hand that Ever loves; that morning it was ripe avocados. Before getting out of the car, she ate one whole avocado—until she was satisfied—and drank some fresh coconut water. We then went into the party with her belly 100 percent satisfied and 100 percent nourished (that's key).
When they announced that cake would be served, I explained to Ever simply, "Darling, they have cake, but it's not vegan. I'll find something else yummy for you to have." That was all.
We went to the table and sat in front of the fruit platter. Ever's eyes nearly popped out of her head with excitement. She ate the equivalent of two beautifully ripe kiwi fruits, five strawberries and three slices of melon while others ate cake. She loved it.
No one else had offered their children fruit instead of cake, so I also made a point of passing around a fruit platter that was already there. I think only one out of about 10 kids didn't take any; the rest were thrilled. On the table were meat pies, fairy bread, cake and a fruit platter. Oh how we underestimate our children!
Many of the mums were anxious—"She's not going to sleep tonight." "The sugar high has started." "This is going to be a challenging afternoon."—and rightfully so. As the emotions and craziness kicked in, mums started getting grumpy, and kids unresponsive and impulsive. One mum was chasing her now nude child (no judgement, I'm all for nudity) through the building trying to take her home.
Here are my top three tips for handling parties with healthy kids:
1. Communicate before the party that there will be food there that they won't be able to eat. I and my vegan friends talk to our children all the time, letting them know why we don't buy certain foods that other people have—and why we don't eat them when other people offer them.
We can explain to our children why we don't eat—and why we don't want to feed them—processed, sugar-filled, factory farmed or other unhealthy foods. They'll listen.
2. Fill them up with food they love before they walk in. Do this at home, or in the car like I did, but be sure to do it. A satisfied child is a content child, not low on blood sugar and seeking "survival foods" or running on excitement alone. If we feed them what they love, they can make more rational choices when the "non-foods" (food that is totally void of real nutritional value) come out.
3. Follow through on promises like, "When they have cake, I will have something really yummy for you to have instead," If we're not organized ahead of time, we can duck out to buy something, or promise that when we leave we'll go get something they love (e.g. a fresh coconut, a raw vegan cake, a mango, a punnet of strawberries, a smoothie)—and follow through with it. Our word is everything. If our children see us keep our word, they'll  trust us,
I believe parties have become even more enjoyable for Ever and me thanks to these healthy habits.
We have a blast! We enjoy every minute of play, every bite of food and every after-party nap together.
We wish you the healthiest, funnest parties of your lives, starting now.
~
Author: Donna Wild
Image: @wilddonnawild on Instagram
Editor: Khara-Jade Warren
Want to learn more about healthy meal creations, plant-based living, and oh so much more for the entire family? I thought so! Check out my book Healthy, Sexy, Vegan Mumma. and discover your best health and sexiest body—today!
---

Skip the oats, skip the gluten, keep all the goodness!
Before realizing I was gluten-intolerant, I ate oats for breakfast every day for about eight years straight. I loved it! But it was ruining my body and my well-being.
Finally accepting my intolerance eight years ago, I embarked on a an intense dietary research journey (I'm still on it) and discovered the benefits of a plant-based, fruit-centric diet.
My family and I love to eat fruit for breakfast and snacks, but sometimes we want a little variety. Something a bit heavier, more grounding and more filling. This is my favorite recipe to have on hand for those times.
Nutritious, gluten-free and vegan, and could not be simpler to make—here's my gluten-free granola with vegan mylk!
Simple Granola Ingredients:
2 cup buckwheat
20 Medjool dates
1 tablespoon of Peanut Butter
2 cups of dried Coconut
2 teaspoon Cinnamon powder
1 teaspoon of Vanilla powder
2 Medjool dates (ideally pre-soaked for 20 minutes or more)
1 banana
1 cup water
1 teaspoon vanilla powder
Simple Instructions:
Granola:
2. In another bowl, mix the rest of the granola ingredients.
3. Combine the paste and dry ingredients, and mix well with your hands.
4. Pour the granola on a tray.
5a. Raw: If you would like your granola raw then put it on a tray and leave it in the freezer for 2 hours. It will not be as crispy as the baked one, but it will get crunchy.
5b. Cooked: If you would like it crunchy and cooked then turn on the oven to 180 degrees celsius and leave the granola for 15 minutes.
Mylk:
While granola is getting ready for you in the oven or freezer, make the milk. Simply blend all the mylk ingredients until smooth and milky.
Pour granola into a bowl. Add mylk.
Enjoy!
For life,
Donna
Want to learn more healthy recipes, plant-based living, and oh so much more for the entire family? I thought so! Check out my book Healthy, Sexy, Vegan. and discover your best health and sexiest body—today!
---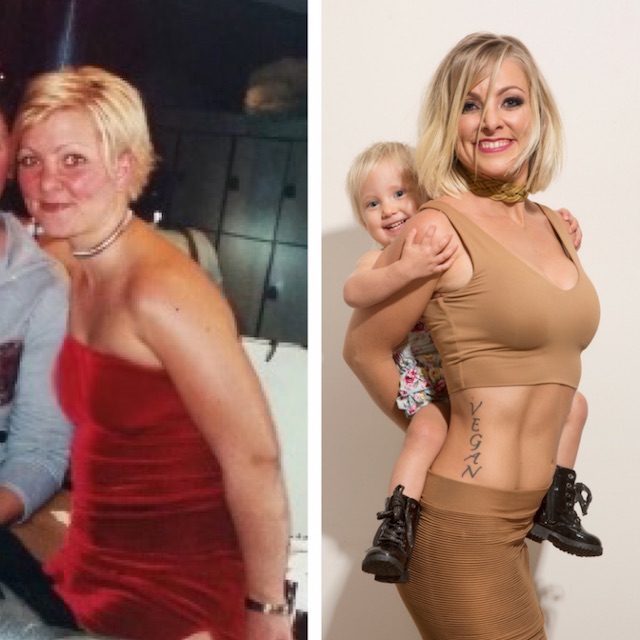 I've been vegan for 17 years (and vegetarian for 27), and I get most of my calories from fruit.
Now, that sounds crazy to some people.
After all, we've all heard the hype about fructose by now:
"High-fructose corn syrup! Fructose ruins your liver! Fructose—run!"
So of course we wonder, "what about…fruit?"
Listen, I've been doing research on the plant-based lifestyle for over a decade, in part for my own benefit, and in part so I can be sure I'm giving my readers and clients the most accurate information available. In that time, I've carefully followed the emerging knowledge on fruit and its role in a balanced diet, and I want to share it with other fruit-loving, health-conscious people out there! Here's what I've found:
Studies have linked liver problems, blood sugar imbalances, weight gain and other health issues to "industrial fructose" consumption only—that is, these problems seem to be a result of added, processed sugars, and not fruit. In fact, studies have found that between a diet restricting all fructose, including that from fruits, and one restricting only industrial fructose, people on a fruit-inclusive diet will lose more weight.
What exactly does "industrial fructose" mean? I know, it's a weird term, and I had to do a little digging. Basically that term refers to the white sugar we put in our coffee, the high-fructose corn syrup hiding in our soda, and the many other processed and overly-sweet non-foods stacked by the hundreds on grocery store shelves.
Fructose found in fruit, on the other hand, has not been shown to have any negative effects on our health.
Scientists wondered if this had to do with the antioxidant or fibre content of whole fruit (which industrial fructose is obviously missing), so they did some tests. 
Here's what happens with industrial fructose: If someone drinks a few tablespoons of sugar mixed with water (the equivalent of a can of soda), their blood sugar will spike massively in the first hour. Then by hour two, they'll be practically hypoglycemic, meaning their blood sugar will be way too low. After that, their body will move fat into their bloodstream, thinking it's needed.
Add some berries to that sugar water, though, and not only will the blood sugar spike be a bit lower, the following hypoglycemic dip won't happen. Adding only berry juice (without the fiber whole berries have), won't block the blood sugar spice like the berries do, but it will prevent the dip.
Some nutritionists have suggested that phytonutrients in berries and other fruits (juiced or blended) partially block our bodies' absorption of sugar through our intestinal wall. For example eating berries along with high glycemic foods like white bread seems to prevent the insulin spike these foods would usually induce.
So not only does fruit sugar not negatively affect our health, it seems it may actually protect our bodies from the negative effects of other less healthy foods, too.
I don't know about anyone else, but I am totally amazed by what fruit does for our bodies—and there's plenty more to learn!
This is exactly why I tell my clients to eat as much fruit as they want—every single day. And that's why I and my family do the same. We've never been healthier.
Want to learn more about mono meals, plant-based living, and oh so much more? I thought so! Check out my book Healthy, Sexy, Vegan. and discover your best health and sexiest body—today!
References & Further Reading:
R Torronen, M Kolehmainen, E Sarkkinen, H Mykkanen, L Niskanen. Postprandial glucose, insulin, and free fatty acid responses to sucrose consumed with blackcurrants and lingonberries in healthy women. Am J Clin Nutr. 2012 Sep;96(3):527-33.
S Petta, G Marchesini, L Caracausi, F S Macaluso, C Camma, S Ciminnisi, D Cabibi, R Porcasi, A Craxi, V Di Marco. Industrial, not fruit fructose intake is associated with the severity of liver fibrosis in genotype 1 chronic hepatitis C patients. J Hepatol. 2013 Dec;59(6):1169-76.
R H Lustig, Fructose: It's "Alcohol Without the Buzz. Adv Nutr. 2013 Mar 1;4(2):226-35.
R Torronen, M Kolehmainen, E Sarkkinen, K Poutanen, H Mykkanen, L Niskanen. Berries reduce postprandial insulin responses to wheat and rye breads in healthy women. J Nutr. 2013 Apr;143(4):430-6.
K Johnston, P Sharp, M Cliffor, L Morgan. Dietary polyphenols decrease glucose uptake by human intestinal Caco-2 cells. FEBS Lett. 2005 Mar 14;579(7):1653-7.
S Manzano, G Williamson. Polyphenols and phenolic acids from strawberry and apple decrease glucose uptake and transport by human intestinal Caco-2 cells. Mol Nutr Food Res. 2010 Dec;54(12):1773-80.
M Madero, J C Arriaga, D Jalal, C Rivard, K McFann, O Perez-Mendez, A Vasquez, A Ruiz, M A Lanaspa, C R Jimenez, R J Johnson, L G Lozada. The effect of two energy-restricted diets, a low-fructose diet versus a moderate natural fructose diet, on weight loss and metabolic syndrome parameters: a randomized controlled trial. Metabolism. 2011 Nov;60(11):1551-9.
---
It's hard to find delicious, healthy, vegan snacks sometimes.
So much of what we can find in supermarkets is full of sugar and oil, high in sodium, and generally processed beyond all recognition. (I like to call these items "non-foods.")
So, I prefer to make my own.
A lot of new vegans, before they learn how to properly feed themselves without animal products, will fill up on foods like chips (fries) and other satisfying-but-not-nourishing snacks.
After more than 23 years living meat-free, and over eight years plant-based, I no longer struggle to meet my nutritional needs. To the contrary, actually: I'm thriving! Still, sometimes we all desire something deliciously crispy and satisfying, yet healthy and nutritious.
For those times, these eggplant chips (fries) are a fantastic alternative to our usual options—especially since they're baked, not fried! Paired with a coconut yogurt dip, they'll be a hit at any party or gathering. Yowsers! Yum!
This recipe is for one eggplant; simply multiply as needed to satisfy more healthy snackers!
Super Simple Ingredients:
Chips:
1 eggplant, cut into strips
1/2 cup unsweetened plain coconut yogurt (any plant-based yogurt will do)
1 pinch paprika
2 Tbls juice of a lemon
1 Tbls apple cider vinegar
2 cups gluten-free seasoned breadcrumbs
Dip:
1 cup unsweetened plain coconut yogurt (any plant-based yogurt will do)
1 Tsp dill
2 Tbls lemon juice
1 pinch black pepper
Super Simple Instructions:
1. Chips: Preheat oven to 180 degrees C (350 F). Line two large baking trays with baking paper.
3. Dip: Combine all dip ingredients in a medium-sized bowl. Put in the fridge until the chips are ready.
4. Combine yogurt, paprika, lemon juice and apple cider vinegar in a large bowl. Toss eggplant chips in yogurt mixture, coating evenly.
5. Place breadcrumbs on a plate, and lightly coat eggplant strips with breadcrumbs. Spread out evenly onto baking paper on trays, making sure they don't touch.
6. Bake in preheated oven for 15 minutes, or until crispy. Turn over and bake other side for another 15 minutes.
7. Serve with dip.
8. Enjoy!
For life,
Donna
Want to learn more delicious meals, more about plant-based living, and oh so much more about nutrition? I thought so! Check out my book Healthy, Sexy, Vegan. and discover your best health and sexiest body—today!
---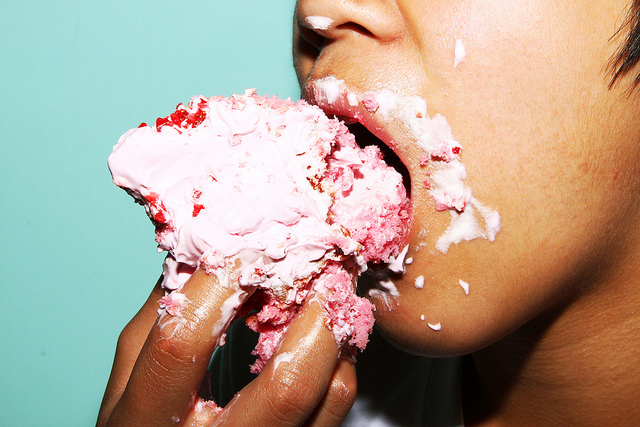 Your child looks at the cake. They look at the junk food. They look at the fruit.
And with a big grin on their face, they choose the fruit.
Let's explore the science of how.
Looking at our global obesity epidemic, findings like these are essential, right? But it's really not enough to simply decrease the quantity of junk food our children eat; ideally they wouldn't choose any.
But attempts to ban all those crispy bags of hydrogenated oil and trans fat (and bubbly cans of sugar water) have been met with staunch opposition—especially around the United States. Texas went so far as to pass a "Safe Cupcake Amendment" (commonly known as Lauren's Law), which protects parents' and family members' rights to bring whatever they want to school to celebrate their little one's birthday.
What would happen, though, if we gave children the chance to make their own choices about nutrition, offering them, for example, both sugary sweets and juicy, ripe fruits to eat?
Researchers did just that, and the results were fascinating.
When they added bowls of fresh, sliced fruit to the table at a kindergarten birthday party—without making any particular attempt to push the fruit on the partygoers—on average, every child ate a full serving size of fruit!
In my experience, too, kids are thrilled to have fresh fruit to eat.
At a recent birthday party with my daughter, I promised I'd find her a yummy (and vegan) treat when a sugary, processed cake was served for dessert. When we went to the table and sat in front of the fruit platter, she was delighted. She ate tons of fresh, wholesome fruit, no cake—and she loved it.
No one else had offered their children fruit, so I passed around the platter. Of about 10 kids, only one didn't take any.
In addition to offering healthy options to children outside their homes (and especially in schools), education is key.
Some schools are starting to offer food education as part of their year-round programming, featuring a "veggie of the month" and spreading nutrition maxims such as, ''Fiber equals a happy tummy.''
These kinds of initiatives work. Young children engage with their food, learn about nutrition, and have fun doing it. And, most importantly, they eat more veggies as a result.
One school even managed to double students' consumption of veggies just by changing the names. For example, "X-ray Vision Carrots" were twice as appealing to elementary school students, compared to regular carrots or "Veggie of the Day." Tiny Tasty Tree Tops were more than 100 percent more attractive than broccoli.
This is not rocket science. Offering children healthy food options—combined with trying to make those foods look and sound appealing—will lead to healthier choices.
More schools should be doing this! How about suggesting it at yours?
For life,
Donna
Want to learn more about kids meals, plant-based living, and oh so much more for the entire family? I thought so! Check out my book Healthy, Sexy, Vegan Mumma. and discover your best health and sexiest body—today!
---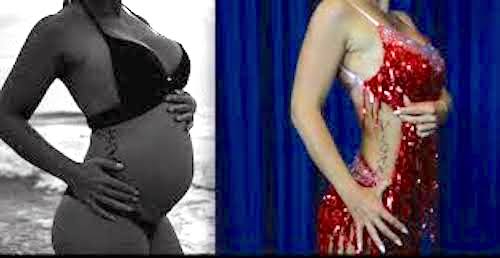 When I was 16 years old, specialists diagnosed me as arthritic in my entire body.
They said I would be crippled by the time I was 22, but they were wrong.
By transforming my diet and embracing a clean, raw, plant-based lifestyle, I changed my health and relationship with my body. I'm not exaggerating.
Nowadays, I like to share my tips and recipes as widely as possible so that others can experience the same glowing good health I do.
This simple smoothie packs in protein from chia seeds, almond milk and kale; I frequently enjoy it pre- or post-workout for a powerful punch of energy.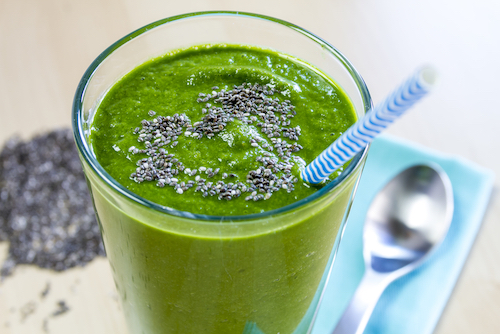 Gorgeous Green Ginger Smoothie
Simple Ingredients:
2 cups kale
2 bananas, frozen
2 fresh mangos
1/2 inch piece ginger, peeled
2.5 cups pure almond milk or non-dairy milk of choice
Simple Instructions:
1. Blend until smooth.
2. Enjoy wholeheartedly, knowing you're nourishing every part of your gorgeous mind, vibrant body and sexy soul.
For life,
Donna
Want to learn more healthy recipes, more about plant-based living, and oh so much more about getting sexier? I thought so! Check out my book Healthy, Sexy, Vegan. and discover your best health and sexiest body—today!
---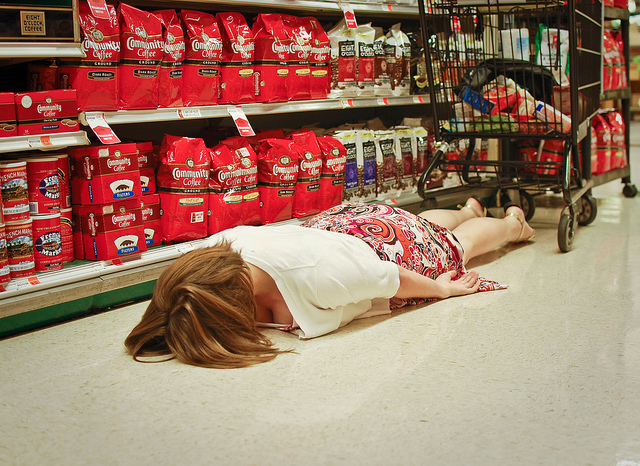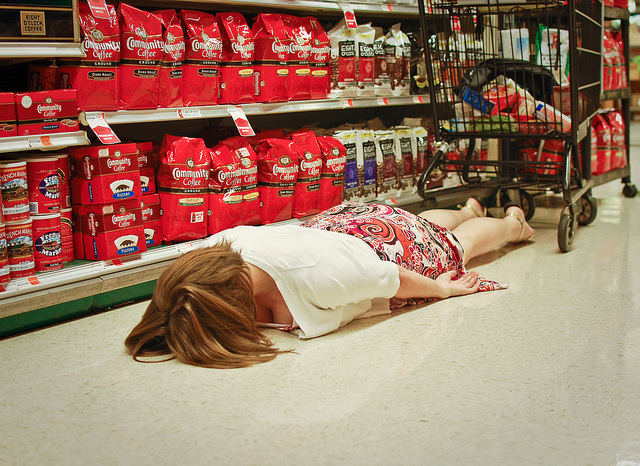 I've been exploring the benefits of plant-based living for a long time.
I've won dance competitions, given birth to a gorgeous baby girl, started my own business, and written several books on health and wellness—all while maintaining a diet and lifestyle completely free of animal products.
But whether you want to go fully plant-based or you're just curious about making healthier food choices for you and your family, eliminating the following five foods is an easy and effective starting point.
If we want to get healthy, we have to understand what's making us sick.
I believe that these five foods are making us overweight, unhealthy, and unhappy. If we can eliminate them from our cupboards, our tables and our lives, we're already on the fast track to gorgeously glowing health.
1. Salt.
Added salt is terrible for us. It causes inflammation and water retention (bloating), and is one of the biggest obstacles to thriving health. While the natural sodium found in foods like celery, Swiss chard and tomatoes is fine, processed salt (i.e. table salt) is not.
In addition to weight gain, consuming these processed salts can lead to high blood pressure, kidney strain, and serious heart conditions. Want to avoid serious health complications? Throw away that salt (and processed foods high in sodium)—now.
I advise replacing salt with other healthier (and more flavorful) seasonings. Lemon juice, herbs, cayenne and black pepper are all natural solutions for tasty meals.
I recommend a diet free (or nearly free) of any oils. Raw or cooked, just one tablespoon of oil can contain up to 14 grams of fat and 120 calories, and simply is not optimal for good health.
What's more, processed oils are full of trans fats, one of the leading causes of heart disease, cancer, diabetes and obesity. Instead, I recommend consuming natural dietary sources of fat, like avocado and coconuts, which are whole, unprocessed and so good for us.
But, don't throw out your coconut oil—it makes an excellent moisturizer for skin!
3. Dairy. 
That includes all animal-derived milk, cheese, yogurt, and ice cream. Dairy contains all kinds of hormonesfrom the animals producing it—hormones contained in their feed or added to their diet to keep them lactating far longer than is natural—and those all end up in our bodies.
Consumption of dairy products has also been linked to osteoporosis, constipation and heart disease. Cutting them from our diet can often clear up allergies, make skin glow, and (bonus!) reduce demand for products from factory farms practicing unethical treatment of animals.
I encourage everyone to switch to almond, coconut or many other non-dairy milks.
4. Meat.
I know it's tough, but if we really want to achieve optimum health, meat has to go. Recent tests have found antibiotic resistant bacteria in 81 percent of raw ground turkey, 69 percent of pork chops, 55 percent of ground beef and 39 percent of chicken. Leaving those statistics aside, meat is one of the only foods that contain almost no fiber, meaning it takes our bodies much longer—as much as a week—to fully digest it.
Fruit and vegetables, on the other hand, move quickly. When we stick to the good, meat-free stuff, we'll notice our digestion improving rapidly.
5. Gluten.
Whether or not we're actually gluten-intolerant, high consumption of breads and pastas is not ideal for a thriving body. Our bodies have a tough time digesting gluten (and many grains), production of these foods is hard on the environment, and many people are in fact intolerant. Cutting glutinous foods out of our diet, we'll often find our skin getting clearer, our weight dropping, and our allergies disappearing. I'd say that's a pretty sweet deal.
Instead of these grains, focus on nutrient-dense legumes or satisfying fruit and vegetables. You won't even miss the rest.
Cutting these five foods out of our diet is good—but it's even better if we can then replace them with delicious, whole, plant-based nutrition. Fruits, vegetables, seeds and nuts are the new staples for a new age of nutrition.
Why not give it a try?
I and my clients have consistently found a diet free of the above five foods and rich in those healthy alternatives to be the key to lasting good health. I hope you'll experience the same glowing success we have!
For life,
Donna
Want to learn more about slimming meals, plant-based living, and oh so much more about getting sexier? I thought so! Check out my book Healthy, Sexy, Vegan. and discover your best health and sexiest body—today!
---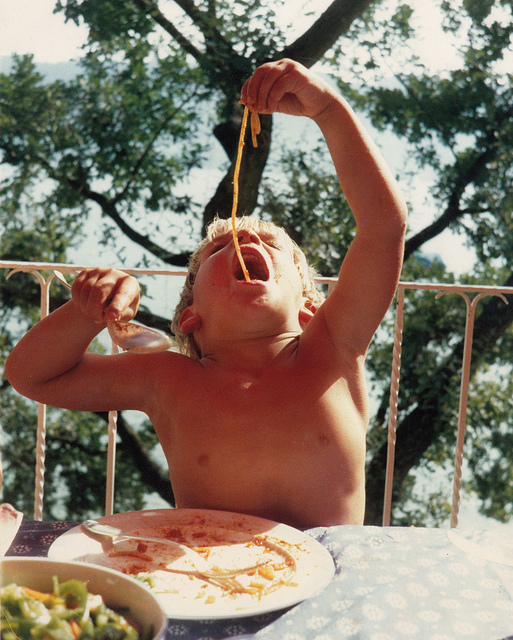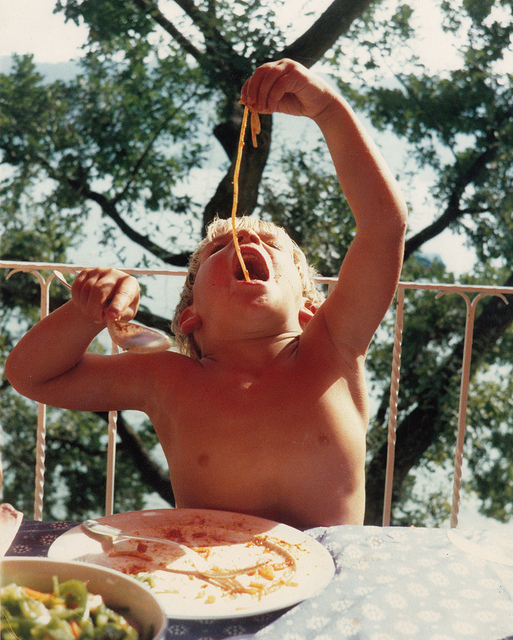 I have lived most of the last 10 years on a low-protein, high-carbohydrate, plant-based diet, and I have never felt better.
I have more energy, feel healthier, and I glow more than ever before; I'm living proof that we don't need a high-protein diet to thrive!
To answer the question I know you're asking, I get most of my calories from fresh, whole foods—especially fruit—direct from the source. Dates, bananas, mangoes, and avocados are my daily "meat and potatoes." Actually, I eat loads of potatoes, but no meat.
While following this lifestyle, I've given birth to a healthy baby girl, won international dance competitions, run my own business, and so much more. I'm full of life and energy—and I give my diet and lifestyle the credit.
That's why I'm so passionate about sharing it with the world.
And this line of research has yielded incredible results.
The first big, comparative analysis of various dietary restrictions suggested that protein intake has a greater impact on lifespan than calories. What's more, reducing protein intake, without changing one's calories at all, seems to offer comparable benefits to restricting calories.
Surprising? Maybe. True? In my experience, absolutely.
That is exactly why I recommend a low-protein, high-carb diet to my clients, my friends, and now to you.
I speak from over a decade of experience when I say this kind of diet is delicious, energizing, and so easy to maintain. In addition, other studies have suggested that this low-protein diet inhibits production of TOR(aging enzymes) and IGF-1 (growth hormones)—which in turn improves health and lengthens lifespan dramatically.
Not all protein was created equal, however. Some proteins—namely, those derived from animal products—are much worse for us.
A certain amino acid called leucine seems to have the greatest impact on TOR levels. Leucine, incidentally, is found in dairy, all meat, eggs, and other animal products. Fruits, veggies, legumes, and grains, on the other hand, contain extremely low amounts of it.
To reduce our leucine intake and thus improve our lifespan and overall health, we must limit (or ideally stop) our consumption of animal proteins.
To put it in perspective, to consume the same quantity of leucine that we'd get from a serving of dairy or meat, we'd need to eat four large heads of cabbage or several dozen apples…even I can't eat that much fruit!
All this could explain why certain groups of people, like the Okinawa Japanese, have such long lives. Traditional diets in these cultures consist of just 10 percent protein, are practically cholesterol-free, are more or less plant-based, and consist of less than one percent fish, dairy, meat, or eggs. (That's about one serving of an animal product every month or two.)
I hope I've given you some insight into why a low-protein, high-carbohydrate, plant-based diet is optimal for health and longevity. Even more, I hope you'll feel inspired to go find out for yourself how energizing this lifestyle can be.
For life,
Donna
Want to learn more about plant-based living, and oh so much more about nutrition? I thought so! Check out my book Healthy, Sexy, Vegan. and discover your best health and sexiest body—today!
---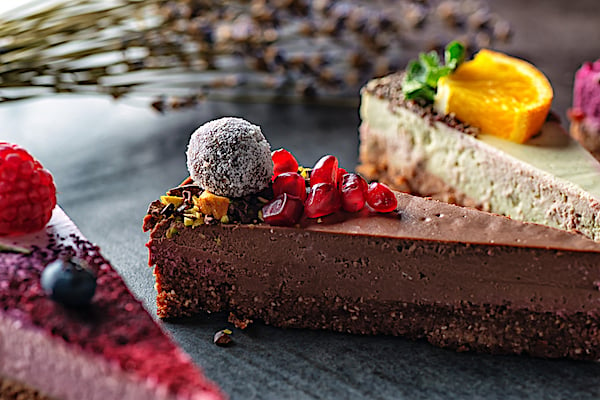 If you're craving a creamy, dreamy chocolate cheesecake, I recommend this raw, vegan recipe as a much kinder alternative for your body.
Full of nourishing, healthy ingredients, it also happens to be a pretty sexy dish to whip up when you have a guest over.
I didn't always know how to nourish my body like this though.
In the "old days," back before I started eating for my ultimate health and well-being, I used to sit and eat three pieces of cake in a row, or three Magnum ice cream bars. However, I was never satisfied—even after all that sugary "food."
Today, I know why. I wasn't nourished. Not really.
You see, our bodies are constantly looking to survive. We are animals, and if we aren't satisfied, then we're seeking to make up the deficit in the form of whatever calories are readily available.
For example, someone on a low-carbohydrate diet (even if it's a "healthy" one) will always be seeking more carbohydrates (hello, binge ice cream session). They could be satiated with healthy carbohydrates like fresh, whole fruits and veggies, but in desperation, they often reach for unhealthy, unsatisfying carbohydrates instead. Just as a person who is tired may reach for coffee instead of taking a nap.
So, if you're reaching for a cheesecake, this raw, vegan recipe is an excellent alternative.
Raw, Vegan, Dreamy Chocolate Cheesecake.
Ingredients:
Crust:
10 pitted Medjool dates (soaked 10 minutes prior)
½ cup raw cacao powder (Cacao is the raw, metabolism-friendly ingredient that cocoa (cooked chocolate) will never be.)
½ Tbsp coconut oil
tiny pinch Celtic saltFilling:
Instructions:
1. Soak the raw cashews for three to five hours.
2. Place all the base ingredients into a food processor or high-speed blender. (Must be high-speed!) Process until dough is formed.
3. Place the base mixture into a pan, pressing the mixture down with your fingers (it's more fun that way) until flat.
4. Place all the filling ingredients into a food processor or blender, process until smooth, and pour on top of the base. Spread evenly.
5. Transfer the cheesecake to the freezer for at least four hours. Place on a bench five minutes before serving. Remove from the pan, slice, and serve.
Enjoy!
For life,
Donna
Want to learn more simple recipes, more on plant-based living, and oh so much more about getting the body you always wanted? I thought so! Check out my book Healthy, Sexy, Vegan. and discover your best health and sexiest body—today!